Choosing to stay in and eat, well let us help you.
Indulge in one of our popular platters or meal packs, freshly prepared and delivered to your Villa. A culinary indulgence ready for you to eat at your convenience. One more way for us to help you do as much or a little as you like.
We just need prior notice for these platters as we source everything fresh, just contact us at reception.
Antipasto Platter – $30
Suitable for 2 people, a gourmet selection of natural deli meats, olives, marinated vegetables, and rich cheese.
From the Latin word meaning "before the meal" – antipasto is a combination of small bites of tasty cold/warm savoury food, traditionally served in Italy as an entrée.
Cheese Platter – $30
Suitable for 2 people, a gourmet selection of local soft, blue and hard cheeses, seasonal fruit, nuts and crackers.
A traditional Italian cheese platter will feature soft, semi-hard and aged cheeses. So, starting with the soft cheese, what better way to compliment the best Granite Belt Wines.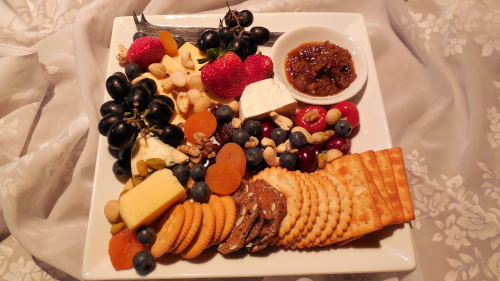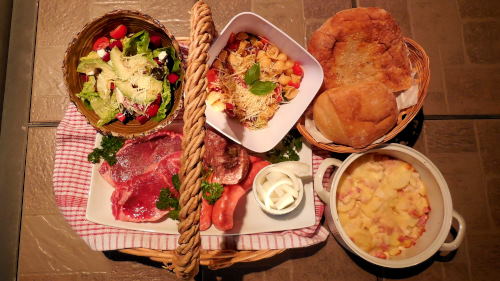 BBQ Pack – $70
We'll provide you with everything you need for the perfect BBQ, all you have to do is cook the meat, serve and eat.
Features:
A selection of quality local beef, lamb, pork or chicken – just select your preference when ordering.
Two homemade cold sides – fresh salad and a pasta salad
Warm homemade potato bake
Bread rolls
Gourmet Breakfast Basket – $15 per person
Off to explore all that the Granite Belt has to offer…then the perfect start to your day is one of our Gourmet Breakfast Baskets, ready for you to cook at your leisure using your private use BBQ or kitchenette facilities.
Includes:
Locally sourced and prepared Bacon & Sausages
Local Free Range Eggs
Mushrooms
Tomatoes
Muffins