Choosing the Right Accommodation in Stanthorpe
The Australian state of Queensland has no shortage of things to do and sights to see, but if you want to enjoy some serenity with your better half for a long weekend, Stanthorpe may just be the perfect place to visit. Located in the centre of the state's most revered wine region, Stanthorpe is home to national parks, mountain ranges, wildlife, and more. Make the most of your stay here by choosing the most suitable accommodation for you.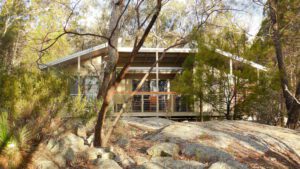 At 31 The Rocks, we provide deluxe accommodation to couples, families, and solo travellers–anyone who wants to take advantage of everything this region has to offer is welcome. We have one- and two-bedroom deluxe cabins as well as studio villas available, each offering ample privacy and a place to unwind while escaping the hustle and bustle of Brisbane.
Things to Do While Staying in Stanthorpe Accommodation
Don't miss out on these experiences during your stay in Stanthorpe:
Explore Queensland's premier wine district
A visit to Stanthorpe isn't complete without a tour of our state's wine region—and we're located right in the heart of it. A landscape of dramatic beauty, the Granite Belt Wine Country is home to many of our nation's most prestigious wineries and vineyards. Walk through trails at your leisure or book a tour while staying at your deluxe Stanthorpe accommodation at 31 The Rocks.
Enjoy the beauty of our surrounding national parksWe're just a short distance from four undeniably stunning national parks: Girraween, Sundown, Bald Rock, and Boonoo Boonoo. If you want to admire majestic waterfalls regardless of the season, head to Boonoo Boonoo. If you'd prefer to view rugged wilderness and steep-sided gorges, you should pay a visit to Sundown. All national parks offer unforgettably beautiful sights.
Kick back and relax for the dayYou don't have to spend every second of your stay exploring one of Queensland's most serene regions. While you're here, why not spend the day feasting on tasty delights by the fire in your private cabin or villa? We offer BBQ packs, gourmet breakfast baskets, cheese platters, and more, and we'll bring them to your door so that you can enjoy your romantic getaway in peace.
Sip a glass of wine or two while the sun sets over our groundsThe sunset views over our 10-acre property are divine. The only way to improve the experience is to share a bottle of wine with your better half. You can enjoy such a sight from the comfort of your villa, but you'll witness the most spectacular views from our gazebo.
Meander through the bush on our walking tracksOur Stanthorpe accommodation is home to two trails. It takes just ten minutes to stroll through our second track, during which you'll see granite rock formations and plenty of colourful plant life, especially if you visit us in autumn. More of an adventurer? Track one will have you climbing to the peak of a granite escarpment–expect spectacular views to take your breath away.
Book Your Accommodation in Stanthorpe Today
Ready to enjoy a well-deserved break in one of Queensland's most beautiful regions? Call us on 07 4681 2726 to learn more about our accommodation or to make a reservation. We're highly recommended due to our friendly staff, welcoming atmosphere, excellent location, modern facilities, and package tours.
We look forward to introducing you to a getaway you'll never forget.
Contact Us
[formidable id=5]