Book Your Holiday Accommodation in the Granite Belt Winery Region at 31 The Rocks Cabins and Cottages
If you are looking for accommodation along the Granite Belt that offers incredible views and options for delicious food, look no further than the choices available at 31 The Rocks. 31 The Rocks Villas offers packages that everyone in your family can enjoy. Between our soothing environment combined with friendly customer service staff, we aim to make your stay with us one that you will remember for a long time to come.
A Relaxing Granite Belt Accommodation
One of our popular Granite Belt cabins is our Villa 4. This cabin is a beautiful choice for a couple that needs an intimate retreat. The villa features modern lodgings and is surrounded by an assortment of Cyprus pines and eucalyptus trees. Are you looking for outdoor adventures during your stay? This cabin has direct access paths for walking that lead you up to the well-known granite features on our property.
Is your goal to book Granite Belt accommodation for a holiday for your entire family? Villa 5 is the option for you. This villa is the highest one on our property and offers the best views. It has two bedrooms which can accommodate a total of six guests. Are you leaving the family at home and travelling with another couple? This villa is the optimal pick! The large living room and kitchen area provide the best setting for couples to escape into a secluded, romantic hideout.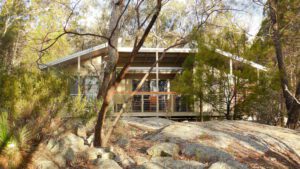 Complete Getaway Experience
Your holiday would not be complete if you did not get to enjoy some of our great packages. The "Rock n Roll" Holiday Deal is an exceptional choice for the couple that enjoys the great outdoors. This package includes a two-night stay during mid-week or on the weekend at one of our designated villas with a gourmet breakfast on each day of your time with us. You also have access to two bicycles and helmets to take a tour of the area along with a picnic basket full of goodies to take with you.
When booking your stay, don't forget to ask about the surrounding tourist attractions to visit. One of the benefits of a visit to our area is being part of the natural beauty that surrounds our location. The region is home to four of Queensland's National Parks including Girraween National Park, Bald Rock National Park, and Sundown National Park. Each park offers unique rock formations, forests and gorges so make sure not to miss out on the opportunity to see them in person.
Book One of Our Granite Belt Cabins Today
When you visit one of our Granite Belt cottages at 31 The Rocks Villas, you can always count on a peaceful experience. Our beautiful Granite Belt winery accommodation options are perfect for a couple interested in a romantic getaway or a group holiday adventure. The breathtaking scenery and fresh mountain air are excellent for a person who needs some time away from the usual hustle and bustle of city life.
To learn more about our holiday options or to book your stay, please call us on 07 4681 2726 or click over to our contact page and send us an enquiry.
Contact Us
[formidable id=5]