Enjoy a Luxury Experience in Stanthorpe with Deluxe Accommodation Near the Winery
It's difficult to put into words exactly how relaxing and invigorating a stay at 31 The Rocks in Stanthorpe is. Between the accommodations, the views, the nearby opportunities for wine, beer and exploring national parks, the experience defies description. If you're searching Stanthorpe for luxury accommodation, the quest is over; take some time to learn what 31 The Rocks has to offer.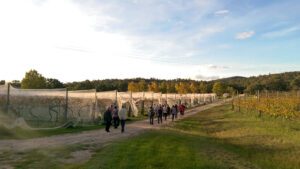 Explore and Discover Deluxe Accommodation in Stanthorpe
Simply put, there are too many ways to have a great day in Stanthorpe to list in full. Nevertheless, consider a few of the experiences you'll find.
Winery – Accommodation in Stanthorpe invites you to explore Queensland's premier wine region. This region is so prolific that there are over 50 wineries, each producing excellent vintages. Some varietals you'll discover here include Shiraz, Cabernet Sauvignon, Merlot, Verdelho and Chardonnay.
Brewery – Beyond Stanthorpe winery accommodation, you'll find two excellent micro-breweries, each producing outstanding craft beer. Visit both the breweries and vineyards to contrast the two, perfect if you're travelling with a partner with different taste buds.
National Parks – There are several national parks near 31 The Rocks. Explore the natural beauty of Girraween National Park, one of the most famous of Queensland's national parks. You can also spend a day at Bald Rock National Park, which hosts the largest granite dome in the southern hemisphere. Sundown National Park and Boonoo Boonoo Falls offer unique attractions, ensuring you'll never be bored during your stay.
Much More – Other distinct attractions to visit include Southern Downs Steam Railway, a delightful heritage railway journey through Darling Downs and Granite Belt, as well as Jamworks Gourmet Foods, with locally-made jams of the highest quality. Don't miss Aloomba Lavender Farm and Suttons Farm for the produce of Stanthorpe's beautiful and diverse climate.
All these options are in addition to the luxury accommodation Stanthorpe has to offer.
Explore our package and special offers
to take advantage of a great opportunity or view our villa pricing and availability to schedule your holidays on your timing.
Why is 31 The Rocks the Best Place to Stay on the Granite Belt?
One of the best features of our villas is the location. You won't find better views of the nearby valley, the spectacular sunsets, or the beautiful flora and fauna. Tread the line between seclusion and civilisation by booking one of our villas and enjoying the modern accommodations. Our villas are perfect for that romantic getaway that you've been looking for. Whether rekindling sparks or keeping the flame burning, the spectacular views are certain to make memories that last.
From our own bushwalk and lookout, you'll experience the best of Australia in all four seasons. You can book the villas as a group and rent out the entire property to have your closest friends with you to share in the splendour. For your holidays, relax and unwind or go all out and explore nature every minute the sun is up. Contact us today to find out how you can have your holidays on your terms.
Contact Us
[formidable id=5]