What to Expect When Staying in Our Stanthorpe Accommodations
When you are looking to stay at any accommodation, you want to know that you are not alone once you arrive. At 31 The Rocks, we do all we can to ensure that our guests feel welcomed and relaxed. We believe that the key to building a reliable reputation is consistency. Our villas are always kept clean and tidy so that when our guests come to visit, everything is ready for them. If there are any issues or questions, our staff is always available to assist, no matter your query.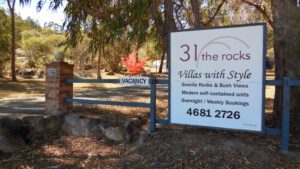 Four Distinct Seasons to Enjoy
When you stay in Stanthorpe, you begin to notice how different your stay becomes as the seasons change. Wildlife and greenery can be replaced by a blanket of snow, stretching as far as the eye can see during winter. Yellow and orange leaves are replaced with beautiful wildflowers and sunny days during summer. Here is what you can expect during your stay in each respective season.
Spring: During the springtime, all the plants and trees begin to blossom. Take in the beautiful wildflowers and bright green trees that surround you, all from your private balcony. If you enjoy all that nature has to offer, then book your villa for spring.
Summer: Do you enjoy warm days and cooler nights with low humidity, then you need be staying in Stanthorpe. During the summer, the temperatures are ideal for swimming, going for walks or just laying outside enjoying the sunshine. Sit back, relax, and enjoy your stay.
Autumn: Many guests have come to our villas to admire the beautiful autumn colours; the surrounding landscape becomes very picturesque and makes for a spectacular backdrop to a romantic getaway. Take your loved one somewhere special, bring them to 31 The Rocks Villas.
Winter: Just because its cold doesn't mean you can't enjoy yourself, the frosts and occasional snow with below zero temperatures are made that much better with a cup of hot chocolate and somebody to watch the snowfall. Each deluxe villa is appointed with a wood burning fireplace for lazy, romantic days.
Things to Keep in Mind When Booking a Stay in Stanthorpe
When booking accommodation, it is essential to know what you will enjoy when staying in Stanthorpe. Our villas are centrally located in the region's premier wine country, on the doorstep of four National Parks, with a selection of activities, or the option to do absolutely nothing. Below are a few things to keep in mind when booking lodgings:
Know the area: If you are planning on staying in Stanthorpe, it's important you know the layout of the region. This area provides several options for enjoying nature, fine wine, craft beer or artisan cheeses.
Plan your activities: Many things can happen once you have arrived at your destination, planning which winery or national park you'd enjoy visiting will assist you to organise a delightful breakaway. The last thing you'll be in Stanthorpe is bored.
Contact us now to book your stylish, modern deluxe villa.
Contact Us
[formidable id=5]